Oh! Seems like someone has a new puppy or a lovely stubborn dog, that refuses to walk on a leash, and needs some tips for how to train a dog to walk on a leash!
Okay. First of all, let me welcome you and tell you that you are in the right place! Here in Glamorous Dogs l Dog Training, we know how to make your dog's life better, by putting them on the right track, with tips, tricks, and products.
Now, Let me show you some amazingly helpful Tips and Secrets for How to Train a Dog to Walk on a Leash!
How To Train a Dog To Walk On a Leash:
Leash training can be a little bit difficult, but walking with an untrained dog can is a lifetime headache; you will never enjoy your walks or adventure with him, and that will make you feel uncomfortable with the idea of walking with him, which will affect his health and mood.
Don't force your dog to wear the leash
Dogs don't like to be forced to something, they will fight it. Make them familiar to it first; it's sound, weight, and how it feels around their neck. Don't just put it aggressively on their neck and then wait for them to accept it and be comfortable with it.
Let your dog play with the leash home, put it around their neck and let them drag it around the house; so, after a while, they will feel comfortable with it.
Train your dog to walk with a leash
Even if your dog now is familiar with the leash around its neck, they may become not very comfortable with walking with it, yet. Dogs get excited when they are out, and a simple sound or smell can make them very curious about it, and a leash will limit those unpredictable moves.
So, start with baby-steps training moves, just begin with walking with your dog in your backyard, or around your house; that way they will be familiar with the smells and sounds around, and they will not mind walking in a leash beside you.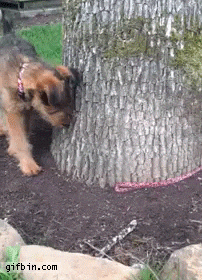 Make your dog love the leash
Sounds hard, right! Well, it is not. Dogs love treats, not just because of the food, It's a reason though! But, they also feel good about being rewarded for something you want them to do, which means that you are happy with them.
After a while, your dog will notice that when you call them and they come and wear the leash, you become happy and you give them the good job treat, so they will love to come, wear it and take their treat!
Use a short leash
It doesn't matter how big your dog is, what really matters is how close your dog is to you while walking. The less room your dog has while walking with you, the more he understands how important it is to you to walk next to you.
Of course, that doesn't mean that you make them feel uncomfortable with how short the leash is! What I mean is you should control how he close he is to you, don't leave the leash so long your dog forgets that wear one around their neck.
Take your dog outside
Every step has its challenges, nothing is easy from day one. However, all those previous practices can make your dog's day one out with the leash, way easier. Just be ready, calm and well prepared; your dog will get distracted with new smells, sounds, and movements. Be patient, and we recommend that you make your first day walk out a short one.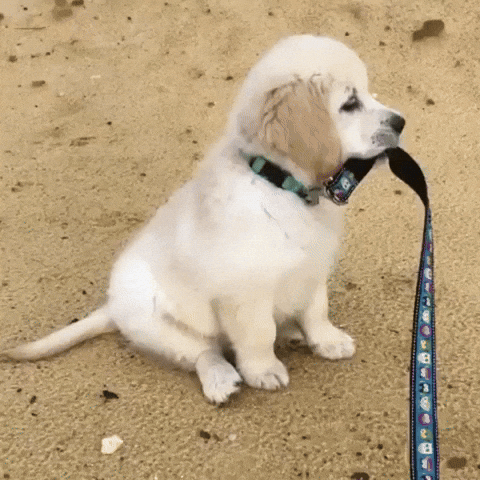 Choose the Right Leash:
Actually, what you just read was the easy part of How to train a dog to walk on a leash, the hard part is How to choose the right leash for your dog!
There are a lot of different types of leashes in the market, How you could possibly know what is the right leash for your dog; a too large leash will hurt your dog's neck, a too small leash will make them uncomfortable, and it may hurt you if your dog pulled it hard.
Therefore, I decided to give you three different kinds of leashes, that might be helpful for you, but you always can choose from our leash collection.
Choosing the perfect leash for your dog will be easier if you listed your priorities and decided which one will help you enjoy this walk as well. Therefore, if you are someone who is highly active, and usually you take your dog with you while running. Or you are a very busy owner, that needs to make phone calls or use his hands-free while walking his dog; You will love this one!
The Dog Leash for Running is an extremely strong leash that designed for shock absorption with extra handles for control, however, it is designed with a padded waist strap to make you and your dog comfortable with using it.
You can order now and save 47% from its actual price.
If your dog is a highly active dog, that keep pulling you hard towards any smell, sound or movement that grabs their attention; you are in the right place.
Usually, dogs that are so sensitive towards and curious about anything around them, give their owners a real hard time while walking with them. However, it doesn't feel right to keep stopping him by grabbing his leash; it might hurt their neck.
Therefore, the instant dog leash trainer might be the perfect solution for this problem, because it is designed to get your dog to walk in line, gently, by allowing the pressure of pulling to the back, under the hips, and through the loop.
Hence, your dog will be fully controlled by you, yet, not annoyed or hurt by the leash around its neck. If interested, you can know more about it and order now from here!
This one is my favorite, and if you have busy mornings all week like me, I assure you; you will love this one, too. This one lightened up my nights… No, for real, this one comes with BRIGHT LED LIGHT!
Amazed enough! Well, I am not done with this one yet. Because the smart leash is smart enough to track and record your dog's walks, connects to your phone by Bluetooth, enables you to see clearly in the dark and it is strong enough to handle all your dog's pulls.
Moreover, it makes you and your dog look super cool, and if you order now you will save 26%, so what are you waiting for?!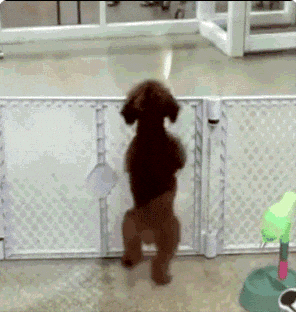 Now, You are ready!
Congratulations! you are now officially ready to try our how to train a dog to walk on a leash guide; you have the tips, secrets and hopefully, you chose the right leash.
Just one thing before you leave. If you have more than one dog, you really should think twice before you take them all with you in this training experience, because it won't be easy or fun.
It is very advisable to train each dog alone, so they won't be distracted by each other, but once you feel that each one of them is ready and well trained; you can take them all together in a walk, I bet you will enjoy every single moment of it.
If you are interested in knowing what are our top picks for dog collars, harnesses, and leashes for 2019 .. click here. You will be AMAZED!
Now, Why don't you tell us some of your useful tips and secrets for how to train a dog to walk on a leash, and how was your first day training a dog to walk on a leash?